About Us
Medicine Valley started in 1984 as a fluid hauling company in Eckville, Alberta. Randy and Laurie Eliuk founded the company with just 3 trucks and have seen steady growth from then to date. MVT now employ's around 18-20 drivers, two Journeyman Mechanic's, a Journeyman Welder, three apprentices, a Dispatcher/Data Entry, Truck Manager, Accounts/Payroll, and a General Manager. We currently own 18 truck and trailer combinations to move nearly any fluid. We have had service/production contracts with some Oil Companies for over 25 years and continue to strive for the best service and value in today's market.
We are now serving over a hundred clients throughout Alberta. Safety, quality, and innovation are among our highest priorities to set us apart from the competition. We hold a valid C.O.R Certificate through the Alberta Motor Transport Association and are in good standing with ISNet and ComplyWorks. In September 2012 Medicine Valley Transport Ltd. partnered up with Jesse Eliuk and a private equity firm Westward Partners with the plans to expand the business base in the Central Alberta area. MVT is actively exploring merger and acquisition opportunities with other fluid hauling companies or complementary services.
Safety
The personal health and safety of each employee of this company is of primary importance. The prevention of occupationally induced injuries and illnesses given the highest priority. To the greatest degree possible, management will provide all mechanical and physical facilities required for personal health and safety, in keeping with the highest standards.
Audit scores: 2012-99%, 2011 93%, 2010 91%
Employment
Tired of being just a number? Let us call you by name, here at Medicine Valley Transport, we have been providing central Alberta with excellent service since 1984. Come be a part of our growing family. We are looking for safety conscious, self motivated, hard working, individuals to help us provide our costumers with above average service; we offer year round steady employment. Our fluid hauling schedule is a 7 on & 3 off, 7 on & 4 off schedule.
We are currently hiring full time employees for the following positions
heavy duty mechanic
apprentice mechanic
shop hand
class 1 drivers
steamer operator
Email your resume with current drivers abstract to
medicinevalley@gmail.com
Download application
here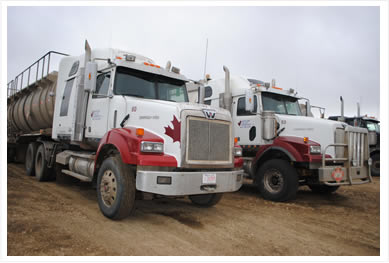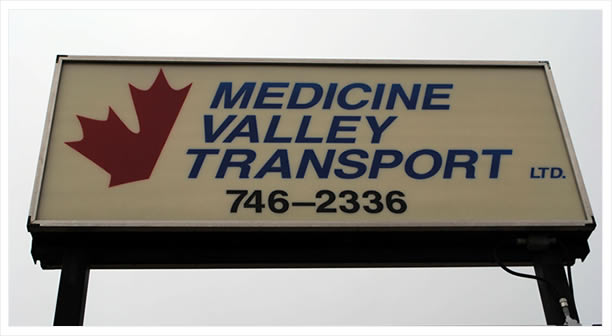 Phone 403 746-2336
Fax 403 746 2075
P.O. Box #519
Location
View Larger Map
From the junction of highway 11 and highway 766 go north for 5.5km through the town of Eckville. 2 buildings past the Co-op card lock, last building on the west side of the highway